Avoid impersonating stores and potential scams
How can I avoid these impersonators?
Always make sure that you are shopping at https://speedcubeshop.com/ or using our mobile app, SpeedCubeShop Mobile found on the Google Play and Apple App stores (clickable links).
Stores that accept PayPal payments under the email address info@cubekicks.com have been linked to several impersonating stores.
The problem
The team at SpeedCubeShop has worked very hard over the past decade to continue to build SpeedCubeShop into the trusted, recognizable brand that it is today.
Unfortunately we have been made aware of stores that impersonate us in an attempt to cause confusion among the cubing community and trick people into shopping with them thinking that they are purchasing from the genuine SpeedCubeShop. Complaints from customers who have mistakingly shopped with these impersonation stores reveal that packages will never arrive or arrive with incorrect (usually less expensive) products in most cases.
Some of these impersonating stores go as far as to post products for sale that are still in development and not released by the manufacturer.
Why target us?
Because our name is highly desirable, we often find that these impersonators will use variations of our name such as but not limited to: speedcubestore.com, speedcubingshop.com, speedcubeshop.co.(insert country prefix), speedcubestore.co.(insert country prefix), and the list goes on.
We actively seek legal recourse against these impersonators who blatantly use our trademarked name but this process can sometimes take some time and does not happen overnight.
Examples of impersonations
It is common for impersonators to copy our slogan, product descriptions, and promotional material word for word.
Our website navigation layout will be copied.
Our slogan "the original puzzle retailer" has been reworded to things like "shop the original puzzles retail"
Product images with our watermark will be used.
Speedcubestore.com
A repeat offender, speedcubestore.co.uk, has operated under several different domains such as speedcubestore.com, speedcubestore.co.uk, speedcubeshop.co.uk, and has been known to operate under different website names entirely for stores based out of China.
An easy way to identify stores affiliated to speedcubestore.co.uk is to check if your PayPal payment is being made to info@cubekicks.com.
The store owner claims that they are a UK based store, advertise pricing in GBP, and unlawfully us a ".co.uk" domain extension when in reality they operate out of China. This is revealed by the return address on packages and their posted business address found on their contact us page.
This store claims to be authorized by major cubing manufacturers but when asked about speedcubestore.co.uk, these manufacturers say that they have not granted such authorization to this store. We have worked closely with and regularly visit these manufacturers and SpeedCubeShop.com ran by Cameron Brown is the only authorized "SpeedCubeShop".
It is not uncommon for speedcubestore.co.uk to advertise and sell products that are still in development that are not released or even manufactured.
The return policy for this store is a copy/paste from an apparel website and advises customers that "All returned items much be unworn, unwashed, and returned in their original condition. The original tag must still be attached." Last time we checked, you couldn't wear twisty puzzles and this store does not sell apparel.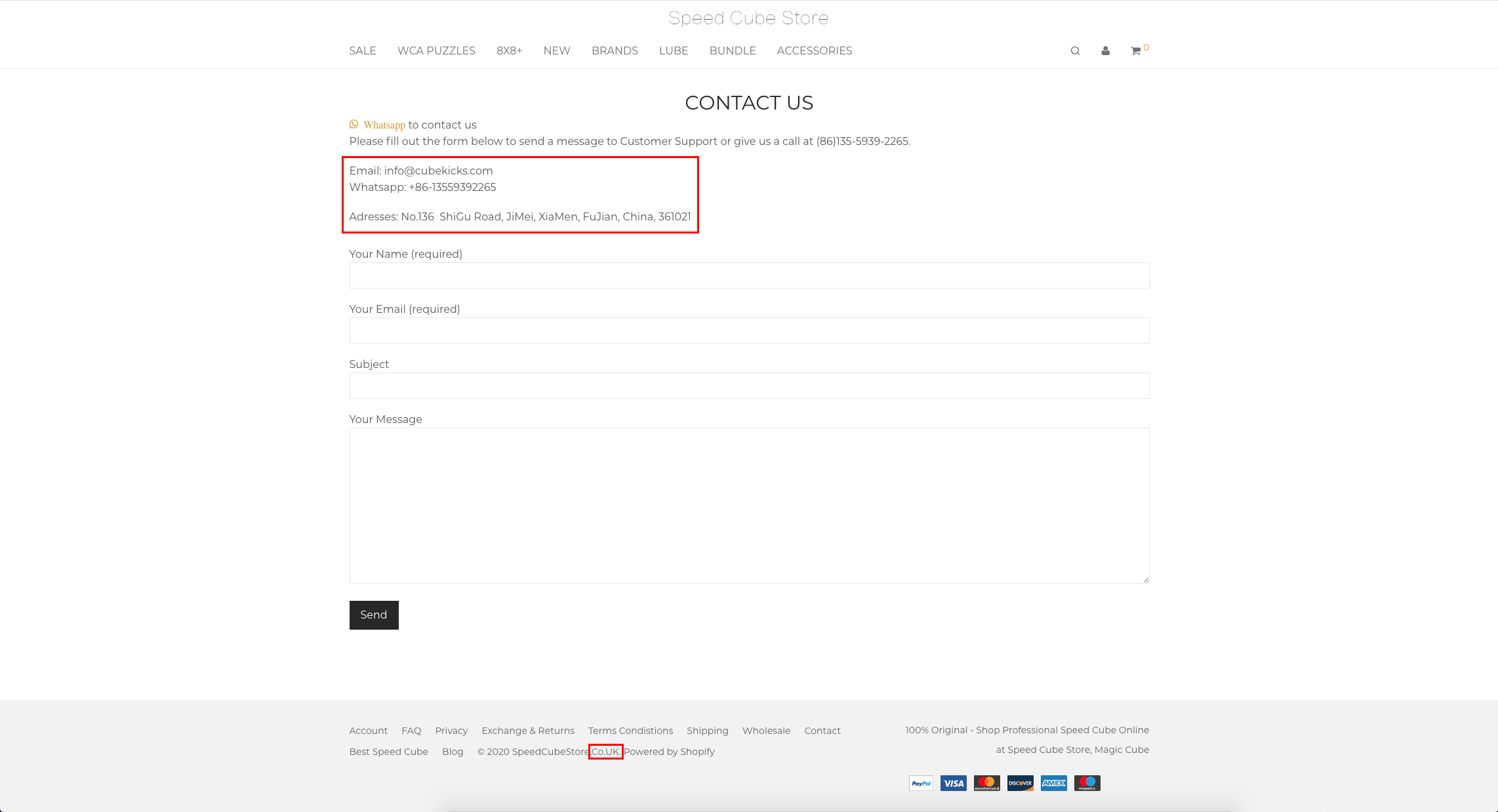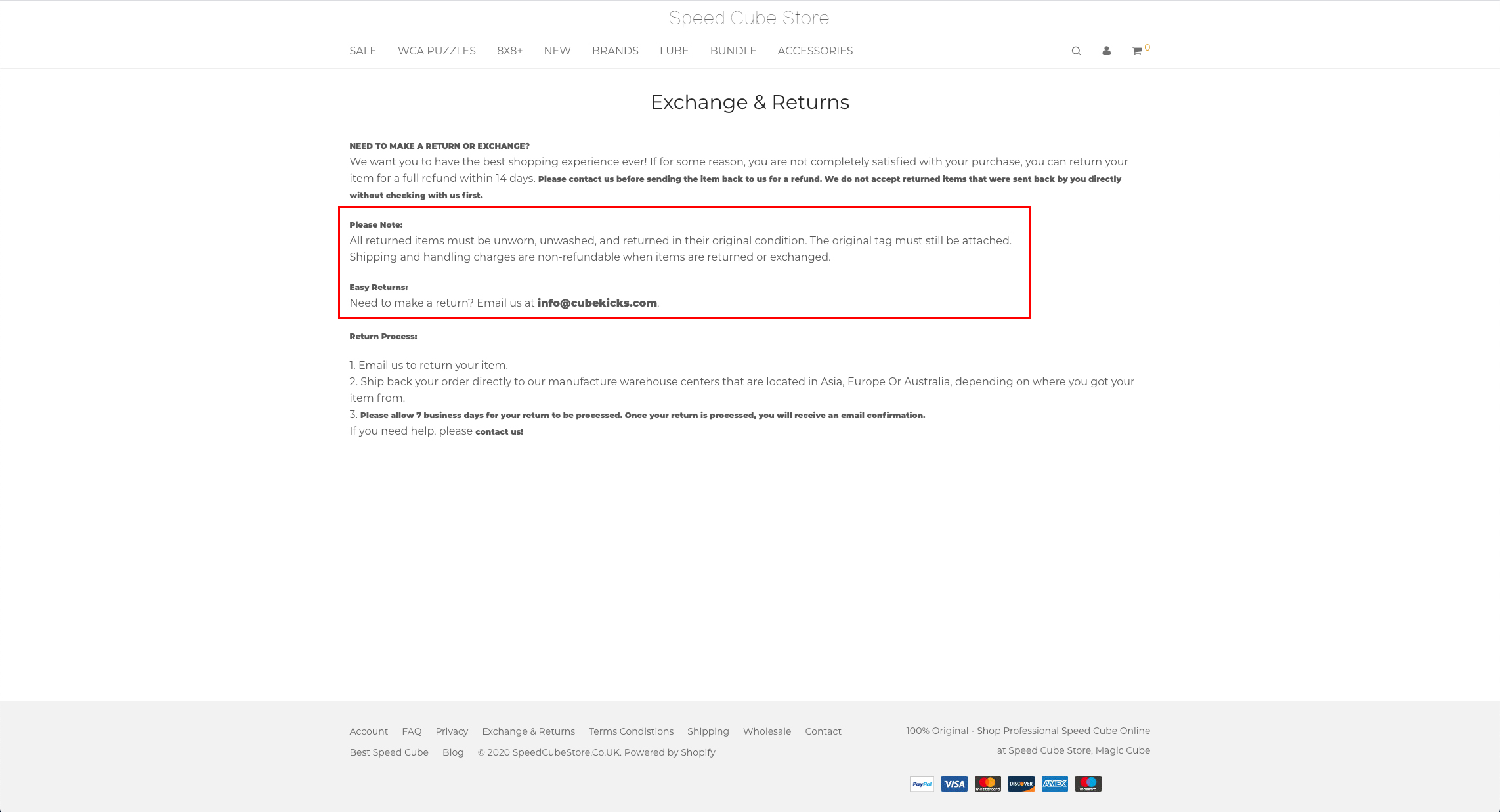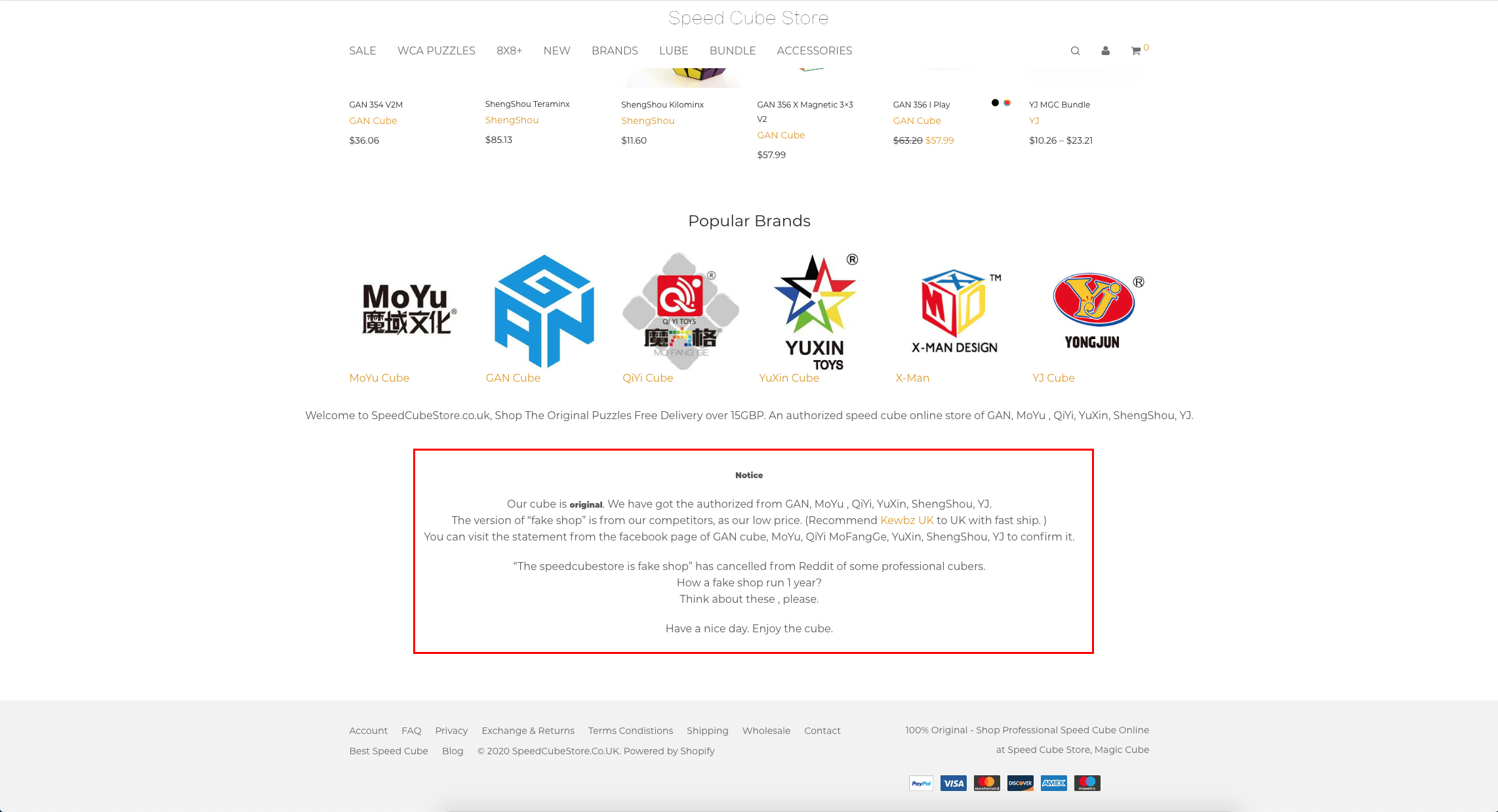 The solution
Your shopping experience is of the highest importance to us as is our reputation that we have worked so hard to earn. If you ever have any concerns when purchasing twisty puzzles or speedcubes online, feel free to contact our helpful support to verify that you are shopping with us.
As of April, 2020 we only operate out of the United States using the domain SpeedCubeShop.com and our mobile app, SpeedCubeShop Mobile.
We never thought that we would ever have to make a public article like this but felt it was necessary to do so.
Useful links about impersonating stores
https://www.reddit.com/r/Cubers/comments/dcdnng/speedcubestore_and_a_rabbit_hole/
https://www.youtube.com/watch?v=kSN9iVg8aos&t=7s
https://www.youtube.com/watch?v=zz9_EvD9em4&t=1s
https://www.youtube.com/watch?v=mRvevtGV_W8
https://www.youtube.com/watch?v=mWj43NY4K9A&t=1s
https://www.youtube.com/watch?v=X2YS2DrgLCM
https://www.youtube.com/watch?v=8zmJu7PCDQg&t=1s
https://www.youtube.com/watch?v=15Q-dQ7qTD0
https://www.reddit.com/r/Cubers/comments/avbtpt/this_is_very_bad_google_is_placing_the_fake_site/
https://www.reddit.com/r/Cubers/comments/avfhe7/dont_wear_or_wash_your_cubes/
https://www.reddit.com/r/Cubers/comments/au4bpf/oh_my_god_the_fake_scs_is_back_again/
https://www.reddit.com/r/Cubers/comments/atyt8i/speedcubeshopcouk_is_fake/
https://www.reddit.com/r/Cubers/comments/atrovp/speedcubeshopcouk_is_false_help_scs_by_spreading/
https://www.reddit.com/r/Cubers/comments/atqg0w/psa_do_not_buy_from_speedcubeshopcouk/
---
---