Why include Duty and Tax with FedEx shipping services?
Orders shipping within the USA are not applicable for duties and taxes.
Understanding duties and taxes
In a nut-shell, duties and taxes are determined by your country based on the type of product that you are importing and the value.
We do not retain any of the revenue from duties and taxes nor do we set the duty and tax rates -- this is all based on your country's import laws and regulations.
Important: Duties and taxes are unavoidable for qualifying orders and are not exclusive to shipments originating from SpeedCubeShop.
Benefits of pre-paying your import taxes
Our website has an integration that allows you to pre-pay for any applicable duties and taxes. Pre-paying your import taxes not only gains you a 10% discount (included in advertised cost) but also allows for faster customs clearance and delivery since the package does not have to wait for taxes to be paid.
How do I know if my order qualifies for duties and taxes?
There are two easy ways to identify if your order or an individual product are applicable for duty and tax fees.
1. Add all desired products to your shopping cart and visit the "View Cart" page. From the cart page, you will find a shipping calculator tool that will display available shipping rates based on the weight of your order and the location we are shipping to. If your order qualifies for duties and taxes, FedEx rates will say "Duties & Taxes Included" at the end.
Alternatively you can proceed to checkout and when selecting the shipping method, you will see a breakdown of the shipping cost and duty and tax fee along with the total cost including the shipping and any applicable duties and taxes.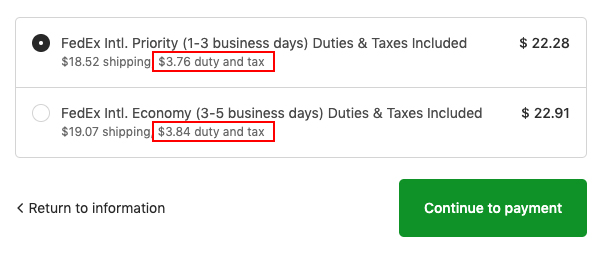 2. You will notice an icon in the bottom left-hand corner of your screen when on our website. Clicking this icon will give you information about your country's duty and tax laws. If you visit a product page for a product that is applicable for duty and tax fees, the icon will "pop up" and inform you of the fee amount.
---
---